●Blu-ray初期の発売で、Mpeg2収録ながら高画質で
 デモなどで使われていたが、動画や色調整などでは
 Mpeg4-AVCのソフトに見劣りするようになり
 Mpeg4収録のイタリア盤はリージョンB固定だったりと
 DVDで出ていた特典がBlu-rayでは無いなど
 色々不満もあった「キングダム・オブ・ヘブン」が
 Ultimate Edition Blu-rayとして北米盤が発売された。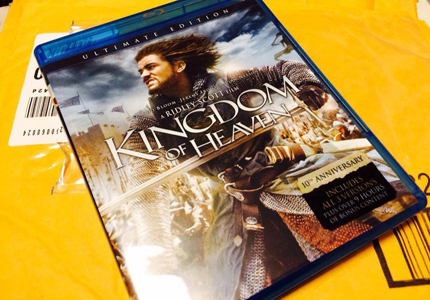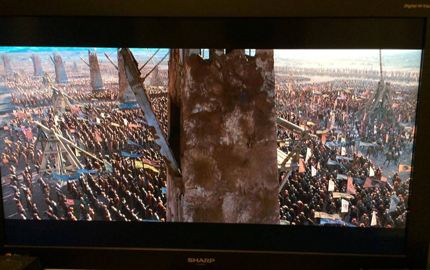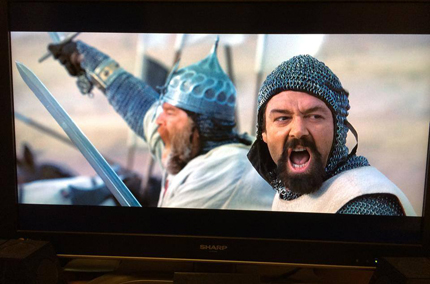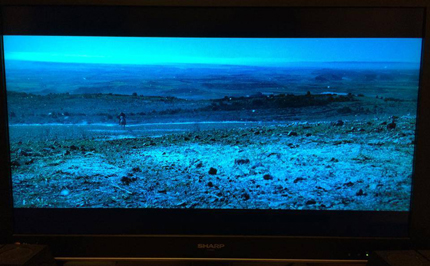 映像はMpeg4-AVC収録になり、以前出ていたMpeg2盤より
 動画でのシャープさがより出ている。
 個人的には以前出ていたイタリア盤より高画質になり
 現時点では本作を一番美しい映像で見られるソフトだと思う。
 攻城戦での細かな矢が増えたよう錯覚するくらい。
 粉雪やホコリ、粉砕された岩などがきっちり目にとまるので
 以前より美しさから戦闘シーンの怖さが増した。
●あと今回の盤は劇場公開版も再生できるので
 評判が良く無かった短縮版として今は扱われているが
 1080pで見るのもこれはこれで新鮮。
 序盤の墓への埋葬から十字軍が現れる所はスコアの切換えの
 効果もあってこれはこれでテンポが良い。
 (ストーリーの根幹が変わってしまうくらい別物映画ですけれど…)
●以下の収録内容の詳細はBlu-ray-comから転載。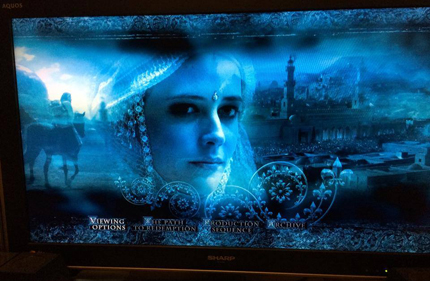 [Disc One]
 Original Theatrical Version (1080p; 2:24:32)
 Director's Cut Version (1080p; 3:09:34)
 Director's Cut Roadshow Version (1080p; 3:13:54)
 includes Overture, Intermission and Exit music.
 Ridley Scott Introduction to Director's Cut Version (480i; 1:01) plays automatically when   either version of the Director's Cut is selected.
 Commentary by Producer/Director Ridley Scott, Writer William Monahan and Actor Orlando  Bloom (Director's Cut Roadshow Version Only)
 Commentary by by Executive Producer Lisa Ellzey, Visual Effects Supervisor Wesley Sewell  and First Assistant Director Adam Somner (Director's Cut Roadshow Version Only)
 Commentary by Film Editor Dody Dorn (Director's Cut Roadshow Version Only)
 The Engineer's Guide (Director's Cut Roadshow Version Only) brings up factoids about things  like the cast's filmographies as the film plays.
 The Pilgrim's Guide (Theatrical Version Only) does much the same thing with facts about the  historical milieu of the film.
[Disc Two]
 The Path to Redemption (480i; 2:21:49)
 Production Sequence includes video content, galleries and text extras devoted to:
 Development, including:
 Tripoli Overview
 Early Draft Screenplay by William Monahan
 Story Notes
 Location Scout Gallery
 Pre-Production, including:
 Cast Rehearsals (480i; 13:23)
 Ridleygrams
 Colors of the Crusade (480i; 32:14), devoted to costume and production design
 Costume Design Gallery
 Production Design Primer (480i; 6:52), more on the film's production design with the    Production Designer and Set Decorator
Production Design Gallery
Production, including:
Creative Accuracy: The Scholars Speak (480i; 26:38) features talking heads discussing the film's historical veracity
Unholy War: Mounting the Seige (480i; 17:04) shows the behind the scenes activity involved in one of the film's big set pieces
Storyboard Galleries
Unit Photography Gallery
Post-Production, including:
Deleted and Extended Scenes (480i; 30:09) features optional commentary by Director Ridley Scott and Editor Dody Dorn
Sound Design Suite features a fun interactive grid where you can do your own ADR and foley mixes
Visual Effects Breakdown (480i; 21:53)
Release and Director's Cut, including:
Press Junket Walkthrough (480i; 6:17)
World Premieres: London, New York and Tokyo (480i; 3:41)
Special Shoot Gallery
Poster Explorations
Trailers and TV Spots features four Trailers (1080p; 2:34), (480i; 1:34), (1080p; 2:34), (1080p; 2:25), and an amazing total of 50 TV Spots in 480i, varying from 00:16 to 00:32, many of which trace the film's somewhat bumpy marketing efforts to various demographics.
Paradise Found: Creating the Director's Cut (480i; 8:29)
Director's Cut Credits
Archive, including:
Interactive Production Grid (480i; 1:23:45), additional featurettes which are accessible via various categories, or playable all at once.
A&E Movie Real (480i; 44;28)
History vs. Hollywood (480i; 42:55)
Ridley Scott - Creating Worlds (480i; 2:37)
Production Featurette (480i; 2:18)
Wardrobe Featurette (480i; 2:12)
Orlando Bloom - The Adventure of a Lifetime (480i; 2:11)
[日本版のセット。なぜか本編は旧盤の転用。
 日本のFOX…。特典は北米盤と同じ]
Tweet